The local Khajiiti clans have long regarded the ancient Moon Gate as a sacred site, but one whose function had been long-forgotten. Still, pilgrims, adepts, and Moon-Priests pay homage here.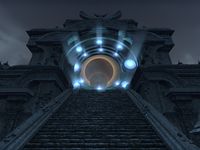 Moon Gate of Anequina is a striking locale located east of the Valenwood Gate in Northern Elsweyr.
Related Quests
Edit
Jode's Core: Defend the Moon Gate of Anequina and the power within from the Dragon threat.