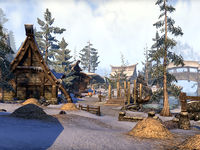 Lower Yorgrim is a small town in northeastern Eastmarch, east of Windhelm. A checklist can be found in the barn next to Cord the Rock. A book titled Howls in the Night can be found in a burned-down house.
A chest can be found against the cliffs south of Lower Yorgrim, near Ragnthar.
Related Quests
Edit
Lower Yorgrim Objective: Save Lower Yorgrim from the rampaging giants. / You saved Lower Yorgrim from the rampaging giants.
Collector of Pelts: Collect wolf pelts to be made into blankets.
Party Planning: Help plan the Konunleikar celebration ceremony.
 The Winds of Kyne: Supply accurate weather forecasts for Cyrodilic Collections' Murkmire expeditions.