This article is about the creature. For the pet, see Jackal (pet).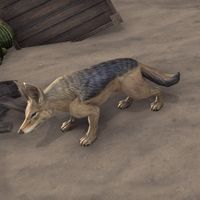 Jackals are territorial canines found in the deserts of Hammerfell and Elsweyr. There are two types; a strong jackal with a large silver coat and dark orange undercoat that has average health, and a weaker jackal with a small silver coat and light beige undercoat that has less health. One dark orange jackal is often accompanied by two or more beige jackals.
Skills and Abilities
Edit
Rotbone

The jackal begins foaming at the mouth and gnawing on you, dealing physical damage.
A pet jackal is given to you upon entering Hew's Bane for the first time.