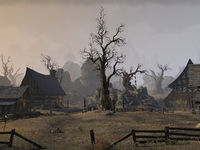 Hinault Farm is a farm in southern Rivenspire, south of Shornhelm.
The notes, Healer Heloise's Notes, can be found at this location.
Related Quests
Edit
Hinault Farm Objective: Assist the Shornhelm Guard at Hinault Farm.

Under Siege: Help rescue a contingent of Shornhelm soldiers.

Dearly Departed: Help give a family a proper funeral.