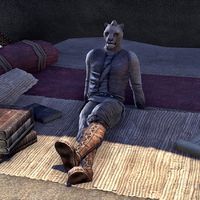 Halinad is a Khajiit merchant found on the Sentinel Docks after you clear the Ra-Netu by completing the quest Risen From the Depths. His store is a tent on the northeast peninsula.
He comments on his quick action after the undead attack.
"These Redguards are slow to reopen their shops. Halinad is not slow, and has much to sell. Please look."