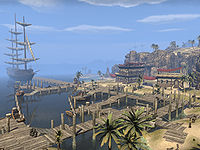 The Sentinel Docks are a set of docks on the west side of Sentinel, in the Alik'r Desert. A thieves trove is located on the northern shore of a Ra-Netu infested island northeast of the docks. You can safely swim to the shipwreck and the nearby islands that lie between the docks and Wayfarer's Wharf. A chest can spawn on the western half of the broken ship to the north. You need to swim to the northern end of the ship to board it and pass through the door way to get on the deck. There are warehouses on the east and west side of the docks.
Sentinel Docks is where you will arrive in Alik'r if you follow the Daggerfall Covenant storyline and come by boat from Northpoint. Other public transport options such as the standard ferry from Wayrest will land you further up the coast, at Wayfarer's Wharf, but you will have to pass through the Sentinel Docks anyway from there to reach Sentinel.
There are two alternative-reality instances of the docks: the zombie-infested version before the quest has been completed, and the more standard working dock area after the necromancers have been cleared as a result of the related quest.
Related Quests
Edit
Sentinel Docks Objective: Defend the docks from the undead invasion.