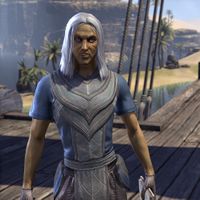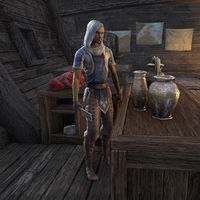 Fenlil is a High Elf chef who can be found on Captain Kaleen's ship, The Spearhead, in Port Hunding. He sells food and drink.
The Spearhead
Edit
While below deck on the Spearhead, he will merely ask:
"Hungry?"
Daggerfall
Edit
While below deck, he will comment on the supplies:
"I hope we have time to resupply before leaving Glenumbra. They have a good selection here."
Wayrest Docks
Edit
Below deck on the Spearhead while it is docked at Wayrest:
"Hey there. Buy something, for old time's sake?"
Wayfarer's Wharf
Edit
While the ship is docked at Sentinel, Fenlil can be found above deck along with Tumma-Shah. He will reveal a desire of his:
"Hey, look who it is. I see you're still kicking. I'm glad, but I'm also jealous.
Just for once, I'd like to leave the boat."