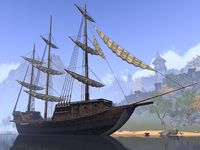 The Spearhead is the ship of Captain Kaleen.
The inside of the ship contains sleeping areas and a dining area, and Captain Kaleen also has her own private quarters. The ship can be found docked in Daggerfall, as well as Port Hunding, Betnikh, and the Wayrest.
In Sentinel, you cannot go below deck and a chest can spawn on the western end of the deck.