Crafting Site
Discoverable
Yes (enter)
Zone
Southern Niben Basin, Cyrodiil
Location
Cropsford
Crafting Stations

Blacksmithing Station
Clothing Station
Woodworking Station
Jewelry Station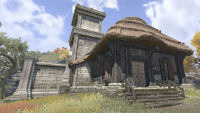 Cropsford Armory is a workshop in southwestern Cropsford where items in the Dauntless Combatant set can be crafted. Cropsford must be owned by your Alliance in order to access the building. Bosekus Sun-Belly is chopping wood next to the building.
Prior to Update 25 this building was inaccessible and consisted of the cottage structure only.