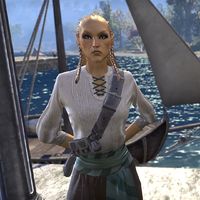 Ciryelda is a High Elf navigator who will transport you to and from Alinor Docks in the Summerset Isle from each of the three alliance's capital cities free of charge. She can be found at the docks in every major city with a port (one per zone, with the exception of zones that aren't near the ocean or a body of water connecting to the ocean).
Sailing from anywhere in Tamriel to Summerset:
"I'll soon be heading back to my homeland of Summerset. Are you interested in passage? We've room for more."
Yes. I'd like to go to Summerset.
"Very good! There's a fair wind, now. Should be a pleasant sail."
Sailing from Summerset to one of the Alliance capitals:
"The sea promises a safe journey today. Care to travel somewhere?"
"My ship is ready to sail. Looking to go on a voyage?"
"Not many can ignore the call of the sea. Looking to travel?"

I'd like to leave Summerset.
"Sure thing, but I'll warn you. Summerset has a way of calling you back.
Now, I can take you to the capital of an alliance. Which one would you like to head to?"

Take me to Elden Root in the Aldmeri Dominion.
Take me to Wayrest in the Daggerfall Covenant lands.
Take me to Mournhold in the Ebonheart Pact territory.
"Very good! There's a fair wind, now. Should be a pleasant sail."