Online:Caravan Company Depot
The UESPWiki – Your source for The Elder Scrolls since 1995
Inn:
Caravan Company Depot

Zone
Craglorn
Location
Dragonstar
Crafting Stations
Cooking Fire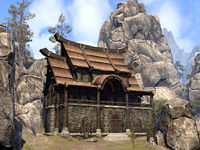 Caravan Company Depot is the inn located in the town of Dragonstar. It is built in robust Nord-style. On the ground level there is a cooking fire straight across the room after you enter. On your left there is a bar where brewer Nurvyna Drim offers beverages and chef Burzgrag gro-Bugurz various meals. A safebox is located behind them in the corner of a table. There is a letter on a table in the right corner, near Nenwirah.
On the upper floor you can see Safa al-Satakalaam sitting at a small round table in the corner. She will request your assistance in the repeatable quest The Truer Fangs. A book called Origin of the Scaled Court can be found on a table near the fire. Bard Beritta Crow-Song can be seen playing near the door leading to the balcony. Farther in, you can see Senamu-daro in the sleeping quarters. Afinah and Nadara can also be found there, sleeping on the beds.
On the balcony, which is overlooking the town, there is a single table with a note on it, starting the daily repeatable quest The Gray Passage.
Related Quests
[
edit
]
Residents
[
edit
]