Online:Bloodthorn Assassins
The UESPWiki – Your source for The Elder Scrolls since 1995
This page is currently being rewritten as part of the Online Quest Project.
The page is being both written and checked. All users are welcome to make changes to the page. If you make a change that is relevant to the project, please update this template accordingly, and make sure you have observed the project guidelines.

Bloodthorn assassins plan to kill King Casimir. If the King dies, the entire Daggerfall Covenant could fall apart.
Quick Walkthrough
[
edit
]
Talk to Captain Aresin.
Investigate the ships in the Harbor District.
Investigate Daggerfall Castle.
Kill Verrik.
Talk to King Casimir.
Detailed Walkthrough
[
edit
]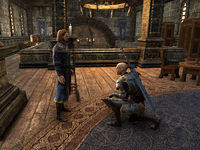 As soon as you finish the previous quest, Captain Aresin tells you to go to the harbor and find the Bloodthorn assassins. Before you do, however, he asks you to tell the harbormaster, Sasana at-Abbas, about the situation with the assassins. The harbor is just west of the Rosy Lion. Run down all the stairs and turn north and continue onto the path at the bottom. Talk to Sasana at the storage area. She seems taken aback by the idea that assassins are hiding in her port, and gives you full permission to search the premises.
Leave the storage area and head southwest down the path. There is suspicious Cargo all over the docks. There are two on the far end of the docks by the lighthouse, one next to the lighthouse, one on the edge of the pavement overlooking the docks, and several on the two ships docked in the harbor, The Hotspur and The Lydia. The ships have the most cargo on them, and The Lydia is closest to the castle. You need to break crates of Suspicious Cargo to find a Bloodthorn Assassin, whom you will have to kill. When you find one, she will tell you that Verrik is already on his way to assassinate King Casimir. Once you've killed an assassin, head out of the Harbor District, climb the stairs and head back towards the castle. Enter the castle and walk towards King Casimir's throne. When you get close, Bloodthorn Assassins will appear. They respawn infinitely, so there's no point in killing them. You need to cut the head off of the snake.
Follow the king north through the doorway and up the stairs. At the top you'll be attacked by Verrik, the leader of the group of assassins. Watch out for his spinning attack and remember to block. When he is dead, talk to King Casimir for your reward.
If you open the wrong crate, you will either find cargo (such as a sack of flour, a pot with handles, or a stack of books) or a Khajiit/Argonian Stowaway.
Quest Stages
[
edit
]
Bloodthorn Assassins
Finishes Quest
Journal Entry
The assassins are hiding in crates on the docks. Captain Aresin suggested I speak to the harbor overseer, Sasana at-Abbas. She should be able to help me.

Objective: Talk to Sasana at-Abbas

I need to search the cargo on the docks to find Verrik and his assassins. Sasana, meanwhile, is calling out the guard to prevent any of the assassins from slipping past me and into the city.

Objective: Search for Verrik and His Assassins

Hidden Objective: Kill Bloodthorn Assassins and Search for Verrik

Objective Hint: Search Suspicious Cargo

An assassin told me that I was too late. That Verrik was already on his way to Daggerfall Castle. I need to go to the castle and stop him from assassinating King Casimir.

Objective: Enter Daggerfall Castle

I'm inside Daggerfall Castle. I need to find King Casimir before Verrik does.

Objective: Find King Casimir

Objective Hint: Follow the King Upstairs

Verrik intends to kill King Casimir of Daggerfall. I need to stop him.

Objective: Protect King Casimir

Verrik is dead and King Casimir is safe. I should speak to King Casimir.

Objective: Talk to King Casimir