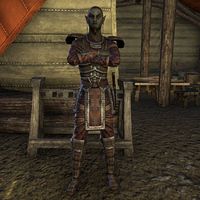 Belvin Redoran is a Dunmer armsman member of the Fighters Guild and member of House Redoran who can be found at the local branch in Fort Amol.
He'll greet you by advertising his blades.
"A well-balanced blade that holds its edge and cuts without effort? Priceless.
How many can I get you?"