| | |
| --- | --- |
| | Get weapons for townsfolks. |
I agreed to help Madras rescue the missing villagers. However, I need to prove myself to him before he'll tell me where they're being held.
Quick Walkthrough
Edit
Find Seron Denelu.
Distract the kinhouse guards.
Get the key and open the weapon crates.
Return to Seron Denelu.
Speak to Varon Davel.
Detailed Walkthrough
Edit
Madras Tedas offers you a deal: secure weapons for his group of villagers, and he'll tell you where the missing villagers are and let you join the rescue mission. He sends you to Seron Denelu, the town blacksmith, who has a plan to distract the kinhouse guards so you can pilfer the armory.
Seron gives you a Steel Whistle and tells you to blow it in front of the kinhouse, which will be the signal for the villagers to create a distraction for the kinhouse guards. With the guards occupied, you must enter the kinhouse, grab the armory key on the upper floor, then go to the armory in the basement and unlock as many weapon crates as possible before the guards return.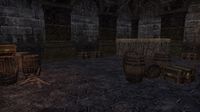 After blowing the whistle, a Resistance Member rushes up to make a scene, which immediately draws away the kinhouse guards. You have exactly three minutes to carry out the plan. First, go to the upper floor of the kinhouse and grab the Kinhouse Armory Key from a dresser. Next, go to the armory in the basement, unlock weapon crates, and retrieve the weapons inside them. While there are eight crates that can be unlocked, you only need to take the weapons from four of them before the timer expires in order to advance to the next stage of the quest. If you don't collect four weapons within the time limit, all you need to do is return to Seron Denelu, talk to him, then blow the whistle in front of the kinhouse again to get the naked Resistance Member to cause another scene.
Return to Seron Denelu and hand him the weapons. Seron explains that as a blacksmith, he can carry the weapons around town without raising suspicion from the guards and discreetly distribute them to the villagers. He tells you to go back to the kinhouse to wait for Madras' next instructions.
At the kinhouse, speak to Varon Davel, who asks for an update on the whereabouts of Giron Sadri and Councilor Ralden. This completes the quest.
Quest Stages
Edit
A Timely Matter
Finishes Quest
Journal Entry
The blacksmith named Seron Denelu is waiting for me. I should go speak to him.

Objective: Talk to Seron Denelu

I've been given a whistle to blow in front of the kinhouse. That will signal the others to distract the guards.

Objective: Blow Whistle in Front of the Kinhouse

I need to find the armory key upstairs, so I can open the weapon crates on the lower level.

Objective: Find the Armory Key

I have the key. Now I need to go to the lower level and grab as many weapons as I can before the guards return.

Objective: Collect Weapons: 0/4

I was unable to grab the weapons for the villagers in time. I need to report back to Seron Denelu and see what our next step is.(Occurs if you don't gather four weapons within the time limit)

Objective: Report Your Failure to Seron Denelu

I collected everything I could. I should return to Seron Denelu.

Objective: Bring Weapons to Seron Denelu

I found out all I could. I should return to Varon Davel.

Objective: Talk to Varon Davel