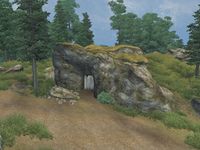 Wind Cave is a medium-sized cave between Chorrol and Skingrad containing monsters. It contains three zones: Wind Cave, Wind Cave Great Pit, and Wind Cave Black Rat Ramble.
The exterior is located at coordinates: Tamriel -23, 14
This location's map marker (M on map) is named Wind Cave (editor name WindCaveMapMarker). The entrance door is E of the marker, 60 feet away.
2 Wilderness Creatures (Highlands variety) are near the entrance
2 Wilderness Creatures (Plains variety) are near the entrance
The following plants can be found near the entrance: 9 Motherwort plants
Zone 1: Wind CaveEdit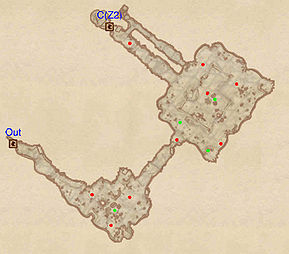 This zone is very easy to navigate, but the large concentrations of enemies may pose a challenge, especially at higher levels. The first room contains three, along with a minor loot chest. The second has five enemies but is large enough for them to be fought in groups. Loot the three chests nearby and head to door C, which is guarded by a final enemy.
Occupants:
Treasure:
Doors and Gates:
There are two doors in/out of this zone
Zone 2: Wind Cave Great PitEdit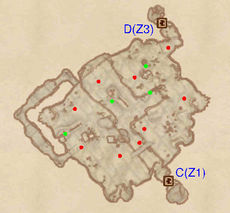 This zone lives up to its name: you emerge at the bottom of a large canyon, with two minor loot chests and two enemies for company. Six other enemies roam the upper level of the room, split evenly between the two sections. Any number of them may detect you and jump down, so be wary. Follow the tunnel upwards and fight your way across the room, heading for the door at D. A minor loot chest is on either side of the canyon.
Occupants:
Treasure:
Doors and Gates:
There are two doors in/out of this zone
Zone 3: Wind Cave Black Rat RambleEdit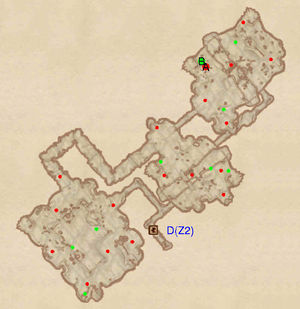 Upon entering, head left at the intersection. The next room contains 6 to 7 enemies, so use its size and sneak to avoid fighting all at once. Three minor loot chests are your reward for a hard fight. The next room is cut in half by a canyon. On either side are two enemies and a minor loot chest. There is also an enemy in the canyon, which you can snipe at.
The final room is rather similar to the previous one. On the near side are three enemies, including a boss-level one (A), guarding the boss chest (B) and a minor loot chest. Across the canyon in the middle are two more and another minor loot chest. Once you've dealt with them, jump down into the canyon and kill the enemy guarding a nearby chest. Make your way along the tunnel, passing through the previous room's canyon. Loot the chest there and head back to door D.
Occupants:
1 boss-level Monster at location A on map
17 Monster Enemies (each 80% probability Monster, 20% Rat)
Treasure:
Doors and Gates: