Oblivion:Rock Bottom Caverns
The UESPWiki – Your source for The Elder Scrolls since 1995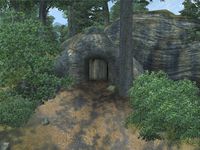 Rock Bottom Caverns is a small cave between Chorrol and Skingrad containing goblins. It contains only one zone, Rock Bottom Caverns.
Exterior
[
edit
]
The exterior is located at coordinates: Tamriel -21, 13
This location's map marker (M on map) is named Rock Bottom Caverns (editor name RockBottomCavernsMapMarker). The entrance door is NNE of the marker, 40 feet away.
1 Wilderness Creature (Hills variety) is near the entrance
2 Wilderness Creatures (Plains variety) are near the entrance
The following plants can be found near the entrance: 4 Motherwort plants
Zone 1: Rock Bottom Caverns

[

edit

]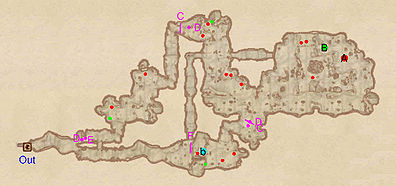 This fairly confusing cave is filled to the brink with leveled goblins, rats and a wide array of traps; it is worth exploring, although the quickest way to clear the cave involves a bit of strategy. Upon entering, the tunnel immediately splits into two; both options basically leads to the boss-level chest in the large eastern room, but if you want everything, pick the passage to the right. You will arrive in a room with a gap and a knocked-over tree posing as a bridge. Look down the gap and release the Falling Logs onto the goblin patrolling the lower level, then cross the bridge and dispose of the goblins on the other side (or simply avoid them if you wish).
Jump into the gap and land near the bedroll at b, making sure to loot the chest nearby. Proceed through the tunnel until you emerge in the central, rectangular room, which contains several cages with dead rats, patrolling goblins and a roasted rat cooking over a bonfire. Continue east through the tunnel to reach the room with the boss chest at B, the goblin at A, and several more goblins on patrol. After disposing of them, loot the boss chest and return the way you came, heading northwest past the cooked rat. The Tripwire at C will not harm you as long as you keep moving, as the Swinging Mace is designed to guard against approach from the other direction. Loot the chest in the last room, ignore another harmless trap, and exit Rock Bottom Caverns through the door labeled Out.
Occupants:
1 boss-level Goblin at location A on map
5 rats (weak tutorial variety; non-respawning)
Treasure:
Traps:
Doors and Gates:
There is one door (at Out) in this zone, which leads outside
Other:
1 bedroll at location b on map