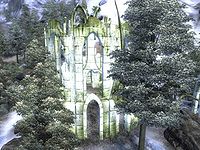 Rielle is a medium-sized Ayleid ruin northwest of Bruma containing undead. It contains two zones: Rielle and Crypt of Rielle.
The exterior is located at coordinates: Tamriel 1, 38
This location's map marker (M on map) is named Rielle (editor name RielleMapMarker). The entrance door is WNW of the marker, 50 feet away.
2 Wilderness Creatures (Snowy Mountains variety) are near the entrance
The following plants can be found near the entrance: 45 Clouded Funnel Cap plants, 8 Milk Thistle plants, and 25 Motherwort plants
Zone 1: RielleEdit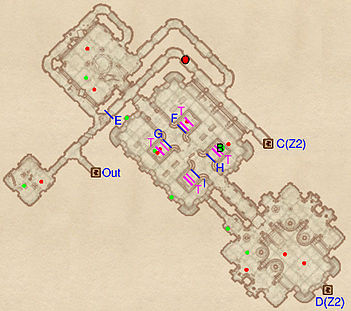 Upon entry, there's a small room to the left containing one cask, but the rest of the dungeon is to the right. Turning right leads to a small corridor with a locked gate (E) at the end. You can unlock the door, but there's usually nothing beyond it, as a gate in the second zone blocks access to anywhere else in the dungeon (however, there's a rare chance that an Orc Adventurer will appear on the balcony at location O on map). So you'll have to take a left turn in the corridor onto a balcony surrounding a large room containing another minor cask.
From here, you can go down two sets of stairs into the next chamber. The main stair leads to a corridor high above the normal chamber that is home to some more undead, another cask, and this zone's boss reliquary (B); however, both containers are located behind pairs of falling blade traps (marked T on map) and gates (F, G, H, and I) that are either remotely opened or triggered to close shut behind you. The lower area is home to a high-level ethereal undead, as well as another cask. Either route leads to the most southern chamber, which contains two more casks. The door in this chamber leads to Rielle's crypt.
Occupants:
Treasure:
Traps:
Doors and Gates:
Zone 2: Crypt of RielleEdit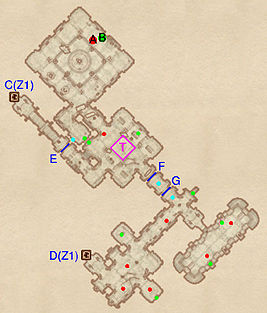 The first room in this zone is inhabited entirely by ethereal undead, and contains two casks and three Welkynd Stones. The corridor to the left intersects the southernmost chamber and the hallway and chamber that lead to the boss area. The southern area has two more ethereal undead and a pair of casks. The northern part of this zone is blocked by two gates (F, G) that open when their respective pressure plates (cyan dots on map) are activated, but close themselves later, and a ceiling spikes trap in the next room.
The boss chamber not only contains the second boss container and the leveled boss undead, but also provides access to a small area containing another cask and a push block (third cyan dot on map) that opens the gate at E, allowing one to escape this area. However, the gate will close if you do not make it in time, so be quick to pass through it.
Occupants:
Treasure:
Traps:
Doors and Gates: