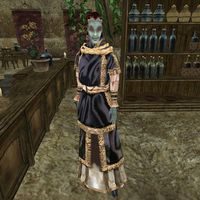 Sorosi Radobar is a Dark Elf publican and the proprietor of The Flowers of Gold, a tavern in the eastern corridor of the Redoran waistworks,Vivec. She sells food, drinks, and beds to all visitors.
She wears an extravagant shirt with matching skirt, belt, and shoes. She carries an assortment of food and drink to sell. Aside from her natural resistance to fire and the sanctuary provided by her ancestors, she knows no spells.
"Good day. I'm Sorosi Radobar, publican of The Flowers of Gold here in Vivec. We rent beds, and I have a limited selection of goods for barter. If you're new here, I can also tell you where to look for other services, or a specific place nearby. If you're looking

 

[sic]for someone in particular, I may be able to help."
If you're on the Writ for Guril Retheran quest and have killed Guril Retheran (and have not reported his execution yet):
"Just... just... get out of my club."

Goodbye
Negative numbers indicate restocking items.

Items with a % in the Qty column are found growing on plants in the store, which will restock over time, not instantly like other restocking wares.

Items in bold are Leveled Lists. Click on them to learn more about what they may contain.