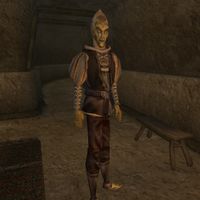 Gladroon is a High Elf vampire smith in the Aundae Clan who can be found at their headquarters in Ashmelech. If you are a member of the clan, and have completed the Blood Ties quest, he will have some armor and weapons for sale, as well as offering repair items and services. If you are not of the clan, however, he will attack on sight.
Gladroon wears an expensive shirt with a matching belt, shoes and ring as well as a pair of common pants. He wields a chitin shortsword in melee combat. He carries a key to Ashmelech, Ashmelech's chest key, ten journeyman's armorer's hammers, and ten master armorer's hammers. He knows the Vampire Touch spell.
Negative numbers indicate restocking items.