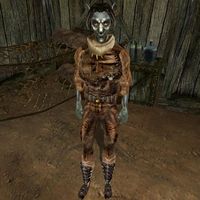 Anas Ulven is a Dunmer thief who can be found in Nadene Rotheran's shack, a Camonna Tong hideout in Gnaar Mok. He sells and buys thieves tools and is a medium trainer in Short Blade and Light Armor, as well as a minor trainer in Security.
Anas and his friends are involved in a turf battle with the upstarts from the Thieves Guild over who controls the Bitter Coast.
Anas wears a netch leather cuirass with matching boots and a common shirt with matching pants. He carries a steel dagger to protect himself. Aside from his natural resistance to fire and the sanctuary provided by his ancestors, he knows no spells.
Negative numbers indicate restocking items.