This page is currently being redesigned for the Lore Places Project (LPP).
The page may need work to meet the standards outlined on the project page.
This page or parts of this page were previously transcluded to other pages per this discussion.
This page should be checked for potential unrelated lore and other information. Please remove this banner when the page has been cleaned up.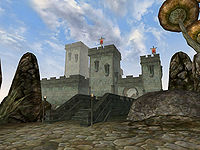 Situated just south of Sadrith Mora, Wolverine Hall was an attempt on the part of the Imperials to project power in a region of Vvardenfell where they were relatively powerless. The Telvanni tolerated the presence of the fort mostly because nobody cared enough to knock it down. Wolverine Hall housed the services not permitted in the town itself, such as the Mages Guild, Fighters Guild and Imperial Cult shrine. These were concealed within the fort itself. Between the Hall and the town itself was Dirty Muriel's Cornerclub, a Nord-style building that was home to the local Thieves Guild.
For game-specific information, see the Morrowind article