This page is currently being redesigned for the Lore Places Project (LPP).
The page may need work to meet the standards outlined on the project page.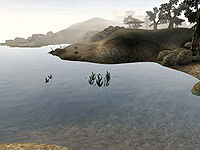 Lake Amaya is a large lake in the Ascadian Isles region of Vvardenfell. It is located north of the village of Pelagiad and south of the Moonmoth Legion Fort. The Tribunal Temple pilgrimage site, the Fields of Kummu, were near the middle of the north shore.