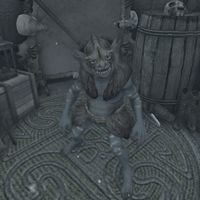 The Riekling Tribe Leader is the chieftain of a tribe of hungry rieklings added by the Netch Leather Armor Creation. He and his tribe are non-hostile and can be found on an unmarked island north of Haknir's Shoal.
Related Quests
Edit
The tribe leader is a riekling of few words, leaving you to do most of the talking:
I understand you're in need of leather.
At this point he will hand you a rough sketch of his hunting party which has been sent to kill a Giant Bull Netch.
You will then have three options for how to deal with his request:
Eating netch leather will kill you. You should give me your cookbook. (Persuade)

Failed: "Joooo fah!"
Passed: (?)

I've brought back your netch leather.

"Waaaah!"

This purple leather is from a giant netch. I'll trade it for the cookbook. (Lie)
Once you have supplied him with leather, he will give you a key to the nearby chest, allowing you to complete the related quest.