This article is about the Creation. For the item, see Netch Leather.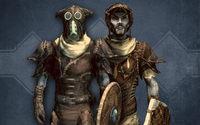 Netch Leather Armor is a Creation that various Dunmeri styled Netch leather armors that can be obtained ingame. The artifacts known as the Boots of Blinding Speed are also obtainable in this Creation.
Official Summary
Edit
Creation Club

A tribe of hungry Rieklings seeks your aid to help hunt down a large bull netch. It's not the meat or jelly they wish to consume, however, but its leather. Help the tribe sate their stomachs or save them from their misguided appetites. Featuring the return of Netch Leather armor, including two additional skins. Quest by Kris Takahashi. (Quest "More Than You Can Chew" starts by reading the Peddler's Journal on a body of a Dark Elf north-northwest of Skaal Village, and southeast of Haknir's Shoal.)
Sneak Peek - June 2019

A classic armor from Morrowind, and one with multiple variants. This includes a boiled netch leather helmet and cuirass, and a darker "shadowed" version of both the normal and boiled pieces.
Armor Types
Books
Creatures
NPCs
Quests