This article is being developed as part of the Skyrim Houses Redesign Project. If you see this tag it means the article can still be improved. Please see the project page for guidelines.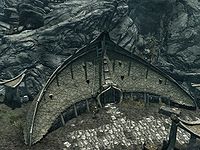 Larak's Longhouse is the primary residence for the Orcs who live in Mor Khazgur.
The longhouse is located in the center of the stronghold and is immediately visible upon entering. It does not differ much from other Orc longhouses, inside and out.
On the exterior, Larak's Longhouse is architecturally identical to the other longhouses. To the left of the entrance is a training dummy, which Borgakh the Steel Heart frequently wails on during the day. To the right is a wooden rack, with three harvestable salmon. Just next to that are a wooden table and chair, where Chief Larak sits during the day. Across from the longhouse is an alchemy station.
On the left side of the structure are a forge and a small hut which covers a few barrels and a novice-locked entrance to Mor Khazgur's cellar. On the right of the longhouse is another hut. Under it are a chest containing minor loot and a hanging rack of harvestable pheasant and garlic.
Residents
Edit
Larak's Longhouse Interior
Edit
As you enter, to the north (directly in front of the entrance) there is a fire pit with a charred skeever just above it available for harvest. Just next to that is a hanging rack with rabbit as well as more pheasant and garlic.
To the east, on the right side of the longhouse, is Sharamph's room. It holds a weapons rack as well as a chest with minor loot next to the bed. On the opposite end of the longhouse is where all of the other Orcs sleep. Here you can find a boss chest, but be careful, as taking from this chest (as well as anything else within the stronghold) is considered stealing.