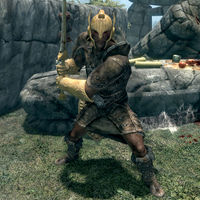 Kinthal is the gang leader of the Saints bandit group.
He wears a golden saint helmet, golden saint gauntlets, fur armor and hide boots. He wields a golden warhammer but also carries a golden dagger, he also carries two scrolls of conjure golden saint warriors and 50 gold. Kinthal can also summon a Golden Saint Warrior whilst fighting.
He can be found at his camp, just east of Karthwasten, up on a hill.
Kinthal knows the following spells:
Related Quests
Edit
Balance of PowerCC: Put a stop to two bandit gangs wielding strange otherworldly equipment.