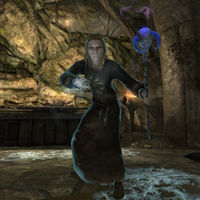 Ivara of Olenveld is a hostile Nord necromancer hailing from the island of Olenveld off the coast of Skyrim. She can be found within Brittleshin Pass during the related quest, taking the place of the usual dungeon boss.
Ivara wears necromancer robes and boots. In combat, she wields the Staff of Hasedoki and a leveled dagger. She carries an alchemy ingredient, her notes, as well as the books The Light and the Dark and Souls, Black and White.
You will need to kill her and her companion Lushak gra-Ragdam during the related quest.
Ivara of Olenveld knows the following spells:
Related Quests
Edit
She or one of her thralls uses the Staff of Hasedoki itself. The staff is capable of ragdolling you, much like a level 40+ Draugr's Unrelenting Force shout. Being knocked off the ledge after being hit can kill you. Ivara can also cast Ice Spike at an incredibly fast rate, killing you before you can get up from being ragdolled.