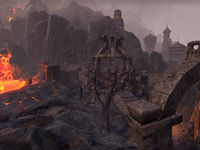 Zergonipal is a Daedric ruin dedicated to Malacath in the Ashlands region of Vvardenfell, southwest of Valley of the Wind Wayshrine. The area is home to a special crafting site, where you may craft items in the Shacklebreaker set.
Related Achievements
Edit
Achievement
Points
Description
Daedric Explorer
10
Visit all of the Daedric ruins in Vvardenfell.