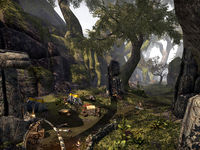 Wilding Run is a grove in northern Malabal Tor, west-northwest of the Baandari Trading Post.
The notes I Must Not Falter and One Wilding Night are located here.
Related Quests
Edit
Wilding Run Obejective: Rescue the surviving soldiers from the undead invasion.
WayshrineEdit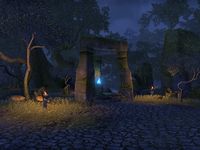 Wilding Run Wayshrine is located east of the grove, just northwest of Silvenar Vale Dolmen.
Prior to Update 25, Wilding Run Wayshrine was also known as "Wilding Vale Wayshrine". The alternate name was seen when you first discovered it and also whenever you approached.