Crafting Site
Discoverable
Yes
Completion
None
Zone
Venomous Fens, Shadowfen
Location
North of White Rose Prison
Crafting Stations

Blacksmithing Station
Clothing Station
Woodworking Station
Jewelry Station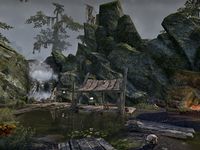 Weeping Wamasu Falls are located in western Shadowfen, north of White Rose Prison. The falls are home to a special crafting site, where you may craft items in the Whitestrake's Retribution set. Fenwalker's Post, a guild kiosk run by Junal-Nakal, resides here.