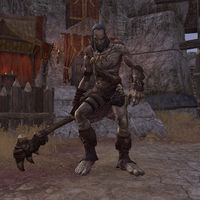 Wallbreaker is a giant found in Thizzrini Arena. Feluni will introduce him with:
"By chance, or by destiny, I found him while braving the frigid wastes of Skyrim!
Welcome the Colossus of Winterhold! The Titan of Terror! The one and only ... Wallbreaker!"
After he is defeated, she will say "The Bane of Winterhold has fallen!"
Related Quests
Edit
He is seen on the loading screen.