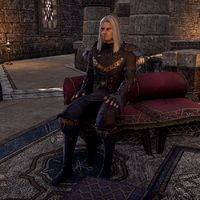 Vyric the White is an Imperial member of the Undaunted, who can be found upstairs at the Sisters of the Sands Inn in Sentinel. You can buy him a drink for 69 

, which counts towards the This One's On Me achievement. When you do, he will tell you about Tempest Island, adding it to your map if you have not already discovered it.
He is sitting with Magnifico Jalid and Twice-Lucky. If you're not part of the Undaunted, he politely asks you to leave.
"Pray pardon me, I wish to keep company with my friends here. Perhaps we could speak another time."
If you are part of the Undaunted, he invites you to purchase a drink.
"Greetings, bold adventurer! I am Vyric the White, servant of the Daggerfall Covenant and honorary member of the Undaunted. It's truly a pleasure to meet you.
I'm told the newest members buy the drinks around here. What do you say, friend?"

What would you like to drink? / I'd like to buy you a drink. What'll you have?
"Oh, anything on the menu will do just fine. Beggars can't be choosers, after all."
Any recommendations for new adventures?
"Oh, but of course! In fact that's why we've come to port here.
A dark plot unfolds in the seas south of Malabal Tor, some dreadful magic brewing on Tempest Island. Storms rage for miles around it, and ships that approach haven't returned."

You came here to warn us?
"To warn the King. But the Covenant can't be distracted with matters so far afield. Would that I could join you, and slay whatever fearsome power lies in wait on that island. The danger we would brave together!
Alas, my duty requires me to stay."
After buying him a drink, he will instead greet you with:
"I say, you're awfully quiet for one of the Undaunted. Have you no tongue, or just a dull wit? Ho, ho! Just ribbing you, my friend. Making jokes, sharing laughs! That … that's what we do, right?
I'm sorry. What was I saying?"
Achievements
Edit