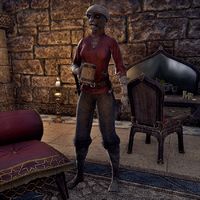 Twice-Lucky is a Khajiit member of the Undaunted who can be found upstairs at the Sisters of the Sands Inn in Sentinel. She will tell you about Direfrost Keep, marking it on your map if you have not already found it.
If you're not part of the Undaunted:
"Twice-Lucky is confused. She doesn't remember inviting you to keep her company, yet here you are. Curious."
If you're part of the Undaunted:
"You are Undaunted! This one is glad to see a new member. She has nearly run out of bodies to climb over in her glorious rise to the top.
You will help Twice-Lucky with this, yes? Magnifico Jalid has been most uncooperative."

Of course. Where should we begin? / You were talking about your glorious rise to the top—anything I can help with?
"Twice-Lucky likes your cooperative spirit! Such is the heart of the Undaunted.
If you seek great heights, look to the land of Eastmarch, where the frozen tower of Direfrost Keep rises over mountaintops. Ascend its icy walls. Prove you are Undaunted."

What will I find there?
"Creatures of ice and magic, touched by the chill of death, bound by an ancient curse. Nothing too serious. This one had a wonderful time, though a shaveskin like you might want to bring a coat."

Why do they call you Twice-Lucky?

"It's the only way this one's victims ever survive—if they elude her once, she calls them lucky, and sharpens her claws for the next dance.
But should they be twice-lucky, and escape her claws once again, this one will relent and let them go free."