Online:Vicecanon Servyna
The UESPWiki – Your source for The Elder Scrolls since 1995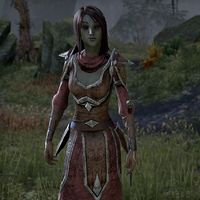 Vicecanon Servyna is one of three vicecanons in Stormhold.
She and Vicecanon Heita-Meen are trapped in a cave when the Aldmeri Dominion attacks Ten-Maur-Wolk. She and Heita-Meen lead a counter-attack when the skin-stealers are distracted, allowing the Ebonheart Pact's soldiers to escape.
Related Quests
[
edit
]
Dialogue
[
edit
]
"Excuse me. I'm busy."
A Pirate Parley
[
edit
]
Near the end of the quest:
"One-Eye would have me believe you single-handedly rid this ... port of Dominion meddling. I would be dubious, but Senil Fenrila corroborated her story.
Now we don't need to fight a war with these pirates. We have you to thank for that."
Glad I could help.
"Don't be modest. One-Eye boasted of your skills. I've offered the pirates letters of marque to seize any Dominion ships they find.
You've earned a reward. Take it with the gratitude of Stormhold and the wardens."
After completing the quest:
"I'm not sending any troops into this town. There's no reason to fight these pirates until I have to.
Your friend One-Eye should know that someday, the Pact may be forced to come back here."