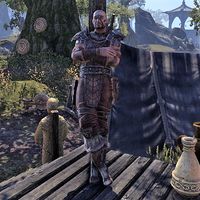 Thongar the Stout is a Nord drunkard and member of the Undaunted, who can be found at their enclave outside Mournhold. He will tell you about Elden Hollow, marking its location on your map if you have not yet discovered it.
If you're not part of the Undaunted:
"You don't look like an Undaunted to me.
Get out if here—while you still can."
If you are Undaunted:
"Why do you idle, Undaunted?
Go jump into a cave. Fight a Daedra or something. Seems to be no shortage of those, these days. Like most things, they'll stop moving when you strike their necks—the ones that have necks."
Any rumors of danger or intrigue?
"There's plenty, if you know where to look."
Tell me more.
"At the base of the mighty tree in Grahtwood lies a burial ground once used by centaurs and minotaurs.
The locals call it Elden Hollow, and I've heard a Dominion Canonreeve passed through there recently."
You think the Dominion is up to something in Elden Hollow?
"Could be. Could be the Canonreeve was just passing through. But what does a politician want with an ancient graveyard?
You should pay a visit either way. What's better than leaping headfirst into a minotaur burial site?"