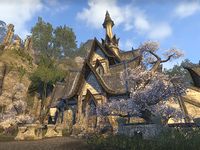 The Foundation of Trust is the Marbruk bank. It is a two-story Altmer-style building located in the southern part of the city. A cooking fire available for crafting can be found on each floor. All items and storage containers in the bank, including a desk, a dresser, and a wine rack, are owned. A Marbruk Guard watches the premises. A master safebox can be found to the right of the counter.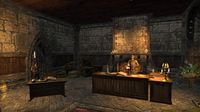 After completing the related quest, the following books are found on the bed upstairs: The Artisan's Letters, Cinnar's Notes, Kuralit's Clue, Mendreval's Clue, Rilding's Clue, and Talqua's Clue.
Related Quests
Edit
The Artisan: Discover the identity of a mysterious thief.
Vendors and Patrons
Edit