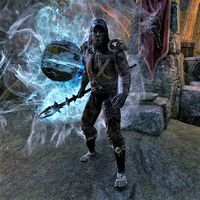 Shaman Yarnag is an Orc member of the Drublog Clan. He acts as the spiritual leader of the group living in the Bloodtoil Valley. He is found in the Shrine of Mauloch next to Ulagash's body, who he slew.
Related Quests
Edit
Payment In Kind: Try to prevent further bloodshed between Bosmer and Drublog.
Quest-Related Events
Edit
Enter the Shrine of Mauloch and you'll find you are too late to save Ulagash. Yarnag will imediatedly mock you:
Shaman Yarnag: "You're too late! Ulagash was weak! Unworthy in the eyes of Mauloch!"
He'll attack and say:
Shaman Yarnag: "Ulagash's blood is on your hands, whelp!"
Shaman Yarnag: "We will hold a massacre in Mauloch's honor!"