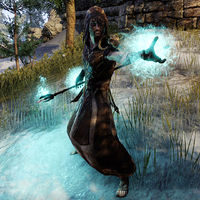 Shadowed Path Defilers are Breton necromancers and members of the Shadowed Path. They can be found all across Cyrodiil.
Skills and Abilities
Edit
Necrotic Spear

A basic ranged attack that does minor magical damage.

Summon the Dead

The enemy often begins combat by summoning a zombie or a skeleton. If killed, another one will be summoned to replace it.

Empower the Dead

The enemy channels a buff on a nearby humanoid undead (eg. skeletons, zombies, even bone colossi) that causes that enemy to do twice the damage. This spell appears as a green glow around the hands of the buffed enemy, as well as the necromancer. This spell can be interrupted to set the enemy off balance.