Online:Phoenix
The UESPWiki – Your source for The Elder Scrolls since 1995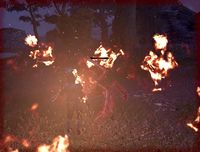 Phoenix is an item set sold by Tel Var merchants in the Imperial City

. Tel Var Armorers sell specific pieces of superior quality gear, while Tel Var Greater Armorer Merchants sell epic quality items. Tel Var Lockbox and Tel Var Greater Lockbox merchants sell boxes that contain random items from the specific set. Pieces are Aldmeri Dominion, Daggerfall Covenant, or Ebonheart Pact Style in Light Armor.
Bonuses
[
edit
]
2 items: Adds 12-1096 Maximum Magicka
3 items: Adds 1-129 Magicka Recovery
4 items: Adds 1-129 Spell Damage
5 items: When you drop below 25% Health, gain a damage shield that absorbs 290-25000 damage for 6 seconds and deals 93-8000 Flame damage to nearby enemies. This effect can occur once every 1 minute.
The set consists of light armor and jewelry in all slots, as well as weapons and shields of all types.