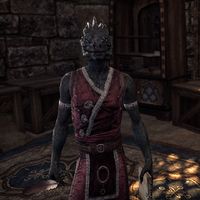 Marz-Ja is an Argonian alchemist who runs the apothecary, The Scalding Vial, in Sentinel.
"Welcome, friend! Has the sun gone to rest yet? My scales dry and crack in this heat. Fortunately I have potions and ointments of all kinds—far better than those found in the marketplace."
You're a long way from home.

"Yes. The foolish bird makes her nest on a

ships's 

[sic] mast, thinking it a tree. I was just such a foolish bird."

You should seek safety farther inland. The docks are overrun. (Before completing Risen From the Depths)

"I think I'll be safe enough here. But you can hide under my counter if you wish. Just don't drink anything."