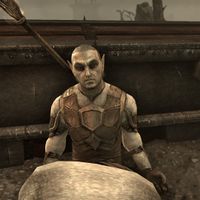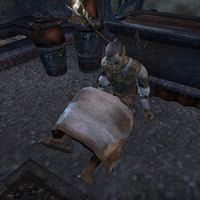 Hedyn is a wounded Chimer you meet upon entering the memories of Mavos Siloreth.
Related Quests
Edit
Rending Flames
Edit
"Balreth is too powerful. Portals everywhere. We're doomed.
Who are you? Where did you come from?"
Never mind that. What's going on?
"We're trying to restrain Balreth but Daedric portals keep opening. Those of us who've survived Balreth are being pulled down by cursed scamps."
How can the portals be closed?
"Take what's in this pouch, throw it in the portals. I was supposed to but my coming death prevents me.
Find Magister Enuse when you're done. She should be north of here."
Speaking with him after this exchange:
"Close those portals before the scamps overrun us all."
If you return to him after closing both portals, you will find him dead on the floor, having succumbed to his wounds.
Initially, Hedyn had black eyes, and at some point the Chimer were updated to have gold eyes and more brass-colored skin.