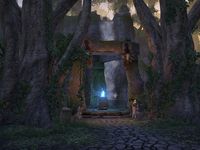 The Elden Root Temple Wayshrine is located at the Elden Root Temple, on an island in the lake northeast of Elden Root. A cultist named Gwannor is praying here, and will comment if you harvest the nearby wood node.
A nereid and nereid empress are floating at the top of the waterfall located south of the temple. Stranglers and hoarvors loiter along the shorelines surrounding the temple, across the river from it.
Related Quests
Edit
Until Death: Help find a woman's missing husband and their dog.