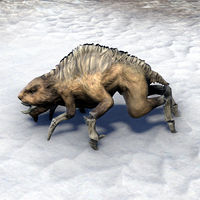 Echalette are juvenile echatere found in the wilds of Wrothgar. They are often found with older echateres, presumably their parents.
Unique Echalettes
Edit
An Echatere pet can be earned by entering Orsinium for the first time. There is also some pet variants, including the Fawn Echalette and Badger Ruff Echalette.
They originally did not have a unique name to differentiate them from their adult counterparts during the PTS, simply being called "Echateres".