Clavina at-Rusa
Home City
Sentinel
Race
Redguard
Gender
Female
Health
25974
Reaction
Justice Neutral
Pickpocket
Hard
Profession
Smith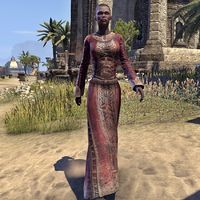 Clavina at-Rusa is a Redguard smith located by the johad west of the palace in Sentinel. She is watching Deem-Ja to make sure she doesn't swim in the water.
Clavina will tell you about the city's water supply.
"Water is life. Without johad wells, our cities couldn't prosper.
I dare not leave it while that Argonian lingers. I've heard distressing rumors."