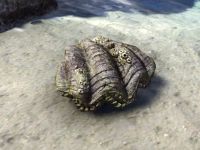 Clam Gall is an alchemy ingredient which can be found on Summerset Isle. They are gathered from Giant Clams, a node type only found on the beach. They are a common reward in Shell Troves, containers that spawn from completing Abyssal Geysers in Summerset. They may also be found inside Pyandonean Bottles, which can be obtained through fishing.
Combinations
Edit
Two Reagents
Edit
Three Reagents
Edit
This chart lists only combinations in which two or more of Clam Gall's effects are present.
Provisioning
Edit
During beta, the effects of this reagent were changed twice in order to prevent 4-effect combinations. The original effects were:
It was later changed to:
Before settling on its current effects.