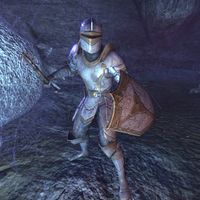 Big Rabbu is a Redguard knight and a corrupted servant of the Whisperer found inside Spindleclutch I. Upon defeating him, he has a chance to drop Guardsman's Mark, a unique item in the Knightmare item set.
Skills and Abilities
Edit
Charge

The enemy steps back and charges, knocking you down and dealing damage. If this attack is blocked, the knock-down can be negated and the enemy may be stunned.

Quick Strike

Deals physical damage.
Related Quests
Edit