Online:Bhakargo
The UESPWiki – Your source for The Elder Scrolls since 1995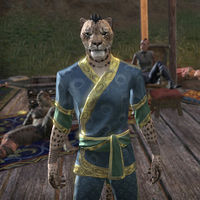 Bhakargo is a Khajiit and the manager of the band known as the "Screaming Mammoths". He can be found at the Valenwood Gate with the band after the musicians gorged themselves on sugar cakes, who are in no position to play for Lady Izza on behalf of Rigurt the Brash.
Dialogue
[
edit
]
He will appear with the rest of the band while you are helping Rigurt with diplomacy. When you talk to him, Bhakargo will tell you all about the band's mishap.
"Unfortunately, the Screaming Mammoths are temporarily unable to perform.
Please check back again once they've had a chance to get some rest, and ponder their poor life decisions."
What's wrong with them?
"Aside from being stupid? Against Bhakargo's advice, they gorged themselves on sugar cakes, which are mainly made of alcohol and moon-sugar.
As Bhakargo wasted his time telling them, those who are not Khajiit should not mess with moon-sugar."
Moon-sugar makes you sick?
"Moon-sugar makes outsiders sick. It doesn't affect us, but other races experience momentary euphoria, followed by days of extreme exhaustion.
Bhakargo tried to warn these jeeks, but they're about as good at listening as they are at self-control."
If you speak to him after gathering the instruments, he'll tell you:
"You can bring those instruments to Rigurt in Rimmen, but return them after the contract is satisfied, yes? They're more valuable than anyone in this band of jeeks."