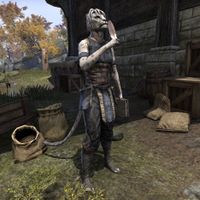 Azartah is a Khajiit merchant who can be found in Cropsford.
When you speak to her, she says,
"Azartah exists to serve. How may I help?"
How do you like Cropsford?
"Azartah is pleased with it. Trade is good, with much commerce between here, Alessia, and Drakelowe.
Azartah was wise to find such a fragrant locale, yes?"
So you plan to stay here?
"Perhaps. The Goblins are a concern. I smell more of them nearby every year. We shall see how the village prospers.
But in business, the wise do not talk of their plans, no?"