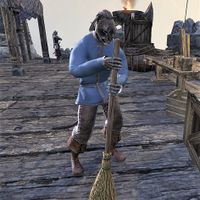 Ak'saz is a Khajiit woodworker found at Graystone Quarry. He is up on the upper wall platform where the woodworking station is.
Prior to completing Quarry Conundrum, Ak'saz will tell you:
"Business would be better elsewhere, but this one wants to help however he can."
"Ak'saz was only here a few days when the things went all to Oblivion. It seemed wrong to leave."
"The Orc chief does not seem to like this one very much."
Post quest, he'll say:
"The Orcs need tools to dig out all this stone, and Ak'saz is just the one to provide them!"
"This one's mother taught him always to be patient and good things will happen!"
"Wonderful news! The quarry is open and business is brisk!"