Oblivion:Fort Dirich
The UESPWiki – Your source for The Elder Scrolls since 1995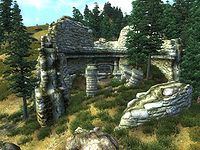 Fort Dirich is a small fort between Skingrad and Chorrol containing undead (quest-related). It contains only one zone, Fort Dirich.
Related Quests
[
edit
]
Exterior
[
edit
]
The exterior is located at coordinates: Tamriel -22, 10
This location's map marker (M on map) is named Fort Dirich (editor name FortDirichMapMarker). The entrance door is SSW of the marker, 10 feet away.
1 chest is above the entrance; it can be reached with even a low Acrobatics skill by going around to the outer wall.
1 Wilderness Creature (Highlands variety) is near the entrance
The following plants can be found near the entrance: 24 Motherwort plants
Zone 1: Fort Dirich

[

edit

]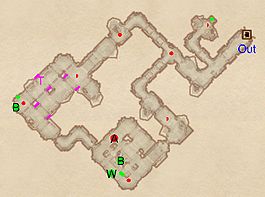 Even though it is relatively small, this dungeon contains two boss-level chests as well as a chest containing Shadowbanish Wine needed for the related quest. Just to the right of the entrance is a small room containing a minor loot chest. At the next intersect, heading left will lead you to one of the boss chests at B. The next major chamber contains another boss chest (B) and a boss-level undead at A guarding it. Behind a coffin is a chest with two Shadowbanish Wine bottles (W).
Heading straight at the intersect will lead you through a room to the second boss chest. This room contains up to two enemies and six Dart traps (T) which you may use to your advantage in combat. The boss chest (B) is found in the western corner.
Occupants:
1 boss-level Undead at location A on map
1 Undead (always best possible level)
3-5 Undead Enemies (each 83% probability Undead, 17% Rat)
0-1 Nuisance Animal
Treasure:
Traps:
6 Darts traps at location T on map
Doors and Gates:
There is one door (at Out) in/out of this zone, leading outside